"

Durch effizientere Arbeitsabläufe wird die tägliche Arbeitsbelastung reduziert, so dass die Klinikmitarbeiter mehr Zeit für die Patienten aufwenden können.

"

Prof. Dr. Jan Florian Heuer
Augusta-Kranken-Anstalt Bochum Mitte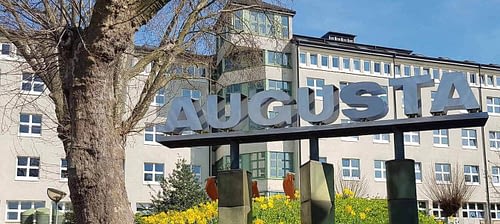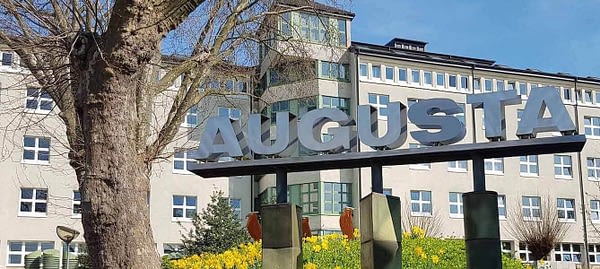 Kunde
Augusta-Kranken-Anstalt Bochum-Mitte 
Ort
Bochum, DE
Mindray-­Produkte
???
Kundenprofil
Das Krankenhaus Augusta-Bochum-Mitte in Bochum, dem Zentrum des Ruhrgebiets in Nordrhein-Westfalen, ist ein privates kirchliches Krankenhaus mit 1000 medizinischen Mitarbeitern und 650 Betten. Mit über 16.000 Patienten und 20.000 Besuchen pro Jahr ist es einer der wichtigsten Gesundheitsdienstleister in der Region, der den Menschen vor Ort eine qualitativ hochwertige Patientenversorgung bietet und seine Fähigkeiten zusammen mit der Stadt ständig weiterentwickelt.
Die Digitalisierung verändert die perioperative Versorgung
Im Jahr 2015 startete das Krankenhaus Augusta-Bochum-Mitte ein Bauprojekt, das den Neubau von Operationssälen und Teilen der Bettenstationen zum Ziel hatte. Mit dem Anbau eines Stockwerks mit hochmodernen Operationssälen hat das Krankenhaus die zentralen Operationssäle auf derzeit zehn Operationssäle erweitert. Zusätzlich zu den fortschrittlichen Technologien verfügt der neue OP-Bereich über große Panoramafenster mit Blick ins Grüne, die dem medizinischen Personal bei der Arbeit viel Tageslicht und eine schöne Aussicht bieten.
"Die Vernetzung von verschiedenen Abteilungen, Arbeitsabläufen und Systemen durch M-Connect hilft uns, das perioperative Management effizient zu gestalten und den höchsten Standards der Patientensicherheit gerecht zu werden."
Prof. Dr. Jan Florian Heuer, 
Direktor der Klinik für Anästhesiologie, Intensivmedizin, Notfallmedizin und Schmerztherapie, Augusta-Kliniken, Bochum, Deutschland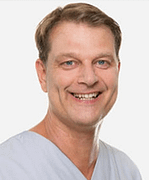 Challenges on the way
Although the new operating theaters brought benefits, there were challenges to be overcome in order to realize the expansion of the operating area.
Augusta-Bochum-Mitte Hospital is a medical training center with a high number of young residents, who need supervision of the senior medical staff. Adding one more floor of operating theaters might make it harder for senior anesthesiologists to supervise residents' surgeries. In addition, longer distances between operating rooms and wards might increase the risk of patient transportation.
To cope with the challenges, Augusta-Bochum-Mitte Hospital expected a monitoring system like the following:
Providing continuous monitoring and maximum flexibility while maintaining continuity of patient information and data during the perioperative period.
Connecting teams, workflows, and systems together to deliver alarms to a specific anesthesiologist.
Integrating patient data into the PDMS (patient data management system) automatically.
Flexible connected systems for various scenarios
Augusta-Bochum-Mitte Hospital decided to adopt the connected systems supported by Mindray's M-Connect IT Solution.
Featuring flexibility and scalability, M-Connect IT Solution is capable of adapting to patient's needs across the hospital – from a plug-and-play module, to a transport monitor and a stand-alone bedside monitor, maintaining continuity of patient information and reducing transfer preparation time to the maximum.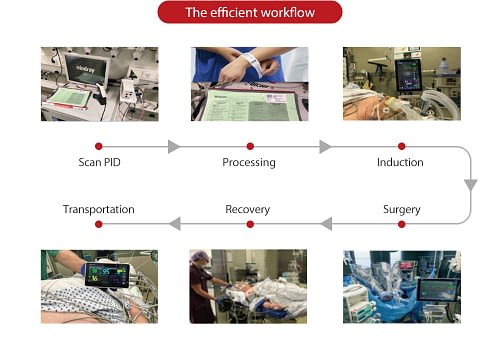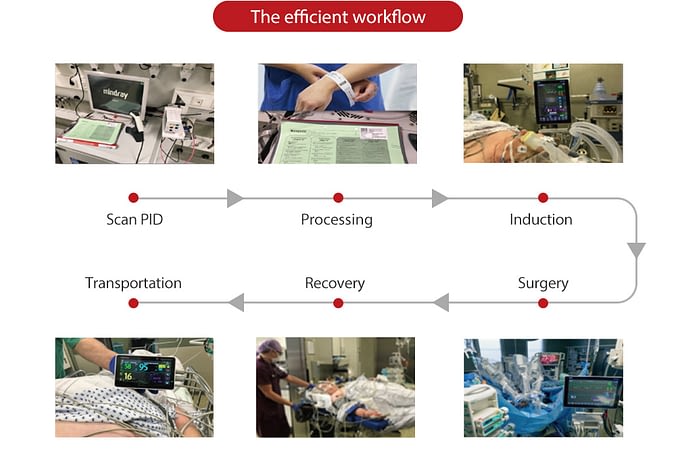 Efficient tertiary response mechanism
To respond to the clinical needs timely, the anesthesia team established a tertiary response mechanism through the M-Connect IT Solution, which supports real-time information sharing, helping the anesthesia team to work more closely.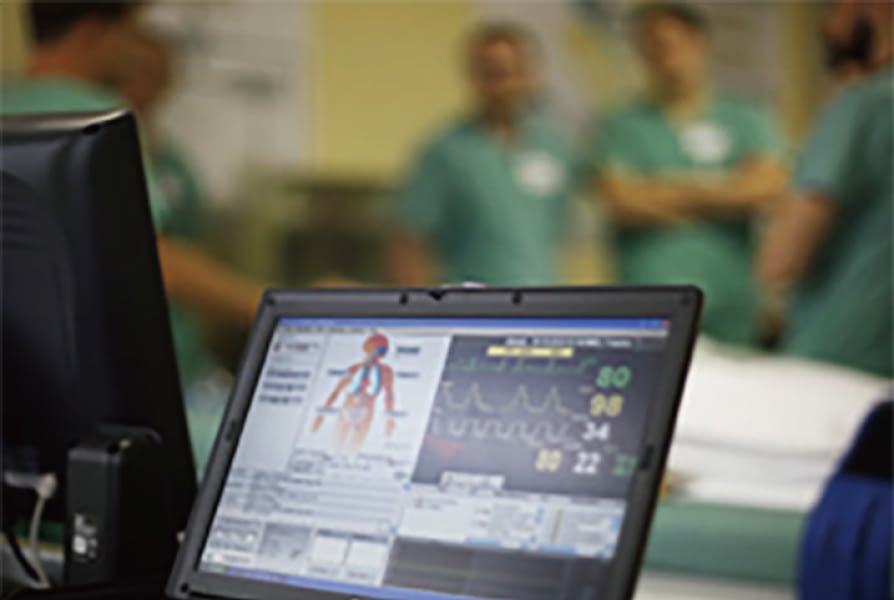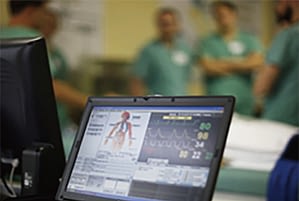 With the distributing monitoring system, the senior anesthesiologist can monitor patients in different operating rooms simultaneously, helping them to give instructions to junior anesthesiologists or anesthesia nurses, which greatly guarantees patient safety.
Moreover, M-Connect IT Solution allows medical directors to view the data of all surgical patients in the office via the ViewStation to control the overall situation. With the patient summary function, directors can view the patient's situation at a glance, quickly identifying patients at risk, and directing a timely team response.
The timely and swift communication among the team is crucial for patient safety as well. In the past time, when failed or difficult intubation happened, anesthesiologists in Augusta-Bochum-Mitte Hospital had to take a phone call for help, which took a few minutes for the rescue team to arrive on site.
Now, supported by the M-Connect IT Solution, a "Call Help" button is on the monitor screen, with which the junior anesthesiologists can call for help by just one click, notifying the senior anesthesiologist in charge and the medical director for timely assistance.
"I cannot think of anything negative. We are all very happy with the system. Just scan the PID one time, the system could obtain patient information automatically and maintain continuity of patient information, without re-entering patient information in the induction room, surgery room, recovery room anymore. Streamlined workflow, more efficiency."
Dr. Oliver Michael Heimes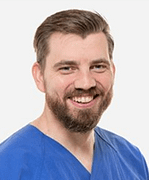 Full data integration to boost productivity
The connected systems make possible the full data integration in Augusta-Bochum-Mitte Hospital. Supported by M-Connect IT Solution, the data of infusion pumps and anesthesia machine is integrated into the patient monitor during the surgery. Displaying everything on the patient monitor screen helps the anesthesiologist to fully understand the patient's condition, assisting in decision-making, and ensuring patient safety.
In addition, the patient monitor can connect with the PDMS, transferring patient data automatically and simultaneously. These connect systems save medical staff's time on paperwork, allowing them to focus on the patient during the surgery.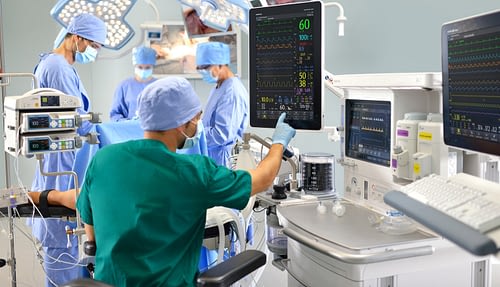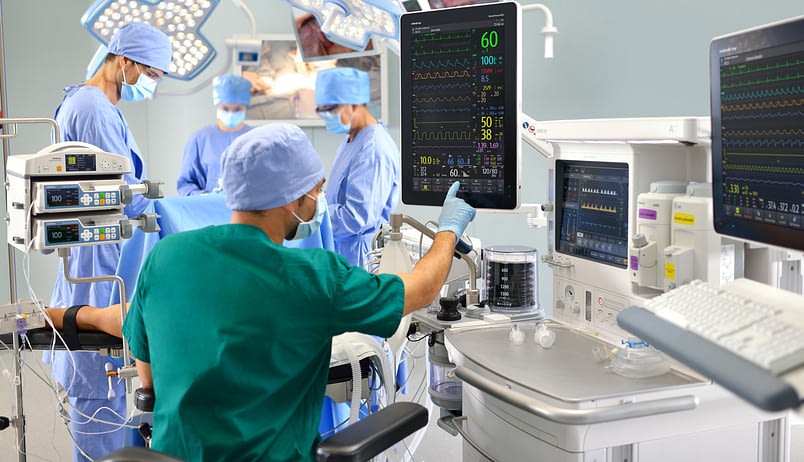 "Fantastic system. No need to search for information on different devices. Everything I can get is on one screen. And with the monitor system integrated with PDMS, I did not need to record vital signs, infusion information, anesthesia machine data manually, and I have more time to look after my patient."
Prof. Dr. Ulrich Kampa
"Connect teams, workflows and systems together throughout M-Connect, helps us to make efficient perioperative management and align with highest patient safety standard.""
Prof. Dr. Jan Florian Heuer
Fazit
Providing optimal care for the patient in the presurgical course, considering possible concomitant diseases, and respecting maximum safety standards is the goal of the anesthesia department in Augusta-Bochum-Mitte Hospital. Supported by Mindray's M-Connect IT Solution, the hospital coped with various challenges and eventually built the new state-of-the-art operating area for better care.
Die Ergebnisse beziehen sich nur auf die medizinische Einrichtung, in der sie erzielt ­wurden. Sie spiegeln nicht die Resultate wider, die in anderen Kliniken und Praxen ­erreicht werden können. 
©2021 Mindray Medical Germany. Alle Rechte vorbehalten. Änderungen der Spez­i­fikationen ohne Vorankündigung vorbehalten. Marken sind das Eigentum von Mindray Medical Germany oder der jeweiligen Inhaber.